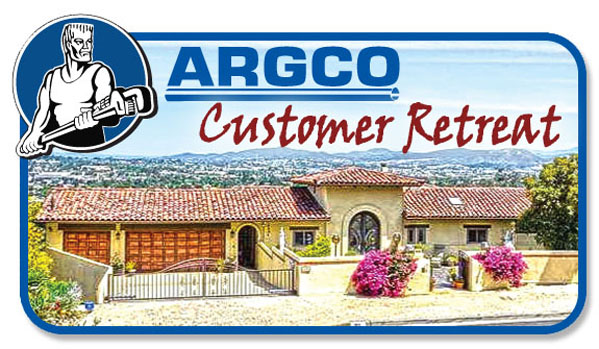 ARGCO CUSTOMER RETREAT
As a thank you for your years of loyalty, ARGCO invites you to spend your vacation at our California
Guest Retreat. Ask your salesman for details and availability
The House
Beautiful California Mediterranean Style home with spectacular views that are waiting for you and
your family to enjoy. This 3 bedroom, 4.5 bath house that sleeps 12, sits on a 1 acre lot with 60
avocado trees, huge wrap-around deck looking over the San Marcos Valley
Walking distance to St Mark Golf Club & Lake San Marcos, this unique area offers something for everyone.
A short drive to world class beaches, 20 minutes from Legoland, 34 miles from Sea World and
the Famous San Diego Zoo...You never run out of things to do!
73 miles from Disneyland, and less than 2 hours to Los Angeles, hour and a half to Mexico,
the road trip options are endless.
Restaurants, Shopping, Movie Theaters are all within minutes of the house.Many guests are content grabbing some groceries, renting a movie and grilling on the deck.
Click Here for a PDF Flyer

The beauty of it is, SoCal is great all year long!
Call your sales rep about details and eligibility. 800.854.1015